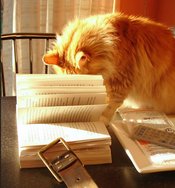 Love to Read
Wild About Reading is the Media Center's theme for Accelerated Reader. Accelerated Reader is the program TCS uses to determine reading ability range and yearly reading goal. When students visit the Media Center, they may check out books in that range. As students complete a book, they take a test over their book using the Accelerated Reading program. Once they complete a test, they are awarded points based on how they did on the reading tests and how many points the book was worth. Each student has an individual goal to meet for the entire school year based on their reading ability. After each test they take on their library book, the program will show their progress towards that goal. They have the entire year to reach that goal.
Once students have reached 25% of their reading goal for the year, their photo is taken and placed on a button pin. The pin is then placed on the Reading Tree in the Media Center on the bottom level. Once students reach 50%, their pin is moved to the middle level. At 75%, the pin is moved to the top level. Once students complete their goal, the pin is hung from the ceiling - and the students are then 'Reading Stars'. This lets the students know that they have reached their reading goal for the year, and may attend the AR party at the end of the year. Also at the end of the year, students will be given their pins at the Awards Ceremony.
Media Center Links

TCS Catalog - Search for all materials in the TCS Media Center

AR/STAR Testing Site - This site will only work at school due to the

article feature licensing agreement.

GALILEO - A Research Database

PASSWORD: ____________

Must be in a lowercase letters.

Reading Level Checker - This website will show you the Accelerated

Reading level of books

AR Level to Lexile Level - This link will take you to a conversion chart.

The chart will show you have to switch from AR reading levels to Lexile

Reading Levels.